1
This takes place after
tear me down
&
if the morning don't steal our soul
.
---
A face-off with death, delivered by the reminder that power alone is not enough to overcome every obstacle, was enough to cure Shyloh of her death wish. She was not eager to return to Mother Night, not after confronting the very real possibility. Shyloh wasn't even entirely sure that Mother Night would be eager to welcome her, giving her even less of a reason to seek the dark embrace.
Instead, the mystery of
Draven Rook
haunted her. The man had interrupted her life to proclaim Hush his sister, with a ridiculous name of 'Marigold'. Shyloh had detested the thought that Hush had a relation, born of blood and not of bond, coming to convince her to leave to Little Terreille.
Shyloh wished now she'd told Hush to go with Draven, had perhaps even gone with them. That way, Hush would have been alive, and Shyloh would not have to mourn the death of her each day anew. At times she forgot Hush was gone, even spoke to the imagined specter of her sister. And in the end, before Logain's Court had been destroyed by a single Black Jewel, Shyloh had begun to think Draven
wasn't so bad
. The man was dangerous and half feral, but in the weeks since Hush's death, she'd begun to understand the rage that had fueled the Warlord Prince.
Shyloh had thought Draven would have been proud of her, thought that the Warlord Prince would finally have the time to bond with his sister, in the embrace of Mother Night. The foolish man had been so
damnably
excited to reconnect with his sister. Shyloh recalled how annoyed she'd been, watching the two talk of their lives, the simple happiness in those moments.
And then they'd both been killed.
And months later, she learned that some
Darkness cursed
person had donned the mask of Draven Rook and infiltrated the Territory Court. That was what made the most sense, but Shyloh hadn't been able to figure out
why
Draven. Any other courtier would have made more sense, herself included. There were men and women who'd been far more respected than the half-feral Draven Rook. But, the other possibility was too painful to imagine.
If Draven Rook lived, he would never have let go of his sister Hush. He'd have burned Goth to the ground if he'd learned of Hush's death. And worse, the man wouldn't have left Shyloh, not after saving her life. They may not have been much, but they shared one beating, golden heart: Hush.
So, the question of
who was Draven Rook
haunted her. Instead of rushing headlong into Goth, ribs still aching and her plan to 'figure it out', Shyloh plotted. She wove webs that would defend herself against a Gray. Wove webs she thought may even defend against the Ebon Gray or Black, after all, hadn't the other Widow trapped her with little more than great skill and a little luck. Power was important, but she'd learned a good lesson that night and from the nightmares afterward: power did not mean everything.
As Analeise, she'd hired an expensive private investigator. She'd told her father the money was to try to find those who may have survived the Court. She'd told the investigator that she was interested in a man who'd spurned her love. The Jeweless Blood PI hadn't much cared for her story, but he'd happily taken the marks.
In the weeks that followed she learned that 'Draven Rook' acted much the same as the real Draven Rook. He fought another Gray in the streets of Goth (she'd not needed the PI for that, the news and gossip pages did that for her). But she learned he frequented the Narrows, that he walked the stomping grounds that had once been Hush's and hers.
Though she'd felt pain at the knowledge, there was a small part of her that hoped the man was not an impostor. She couldn't fathom why he'd forsaken his sister, but, Shyloh had begun trusting him before Logain's Court had been decimated. There was longing to trust someone like Hush like she'd begun to trust Draven. Living the lie of Analeise was a lonely existence.
So she planned a trip to Goth. Her father insisted on accompanying her, to which Shyloh refused. She told him she planned to go to the ruins of the old Court, to visit the families of those who'd died. It was a remembrance tour, and one she needed to do alone. Randall, for all his love for his daughter, did not resist her. A different man, perhaps one of the long list of ghosts of Logain's Court, would not have given in to her. But instead, she packed two bags and vanished the months of work she'd done.
Her body was ready, her ribs almost never ached unless she twisted too fiercely. She was stronger, able to run the length of Courtland's city streets, able to climb and throw without relying on her Craft. And most of all, she'd taken out the books from her time in the Coven, had extended her arsenal of tools and tricks. The impostor would not find her unaware.
Analeise Montressa booked a room at one of the finer hotels in Goth, under her true name. There was no more hiding that the Gray Black Widow was alive, had survived Logain's Court. The gossip columns had reported it, but by showing up with her luggage and Court ready dress, she had made a statement. She was not dead, and she was a free agent.
That night she'd left instructions to not be disturbed, beauty-rest she'd called it, and donned the clothing she'd special ordered. Atop that she donned jewelry, nothing too fine as to make her look like the affluent daughter she was. No, the pieces were silver and copper, made by local craftsmen in Courtland. And each of them held a web that she could activate with a word.
A soft-spoken word unleashed the first of the spelled items. With a Sight Shield and Aural Shield, she ghosted out of the fine hotel and returned to the streets that sung to her bones. She longed to reach out to Hush, to feel the webs she'd created for her sister to assure she'd be safe. The lesson hardest learned, power does not save all.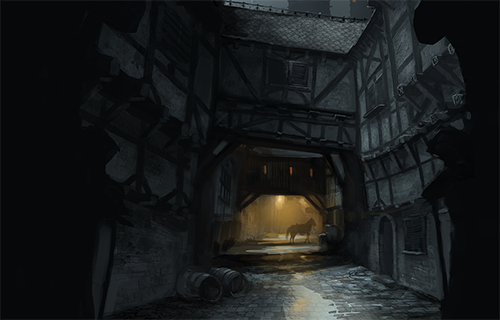 The Narrows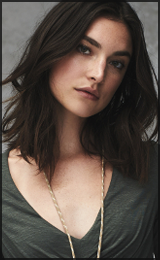 Shyloh is: Amelie Mullins
Shyloh entered the Narrows and let the Shields drop. The woman who stood in her place was neither Analeise or Shyloh, but instead, she was a woman based on one she'd known in the Coven. Her cover was that of Amelie Mullins, common-born Black Widow. Based on the most recent report from the PI, she would find the impostor. A small voice in her head told her to turn back now before she confronted the man purporting himself as Draven Rook. She had no backup, and this time she wasn't just up against an extraordinarily talented Black Widow. This time, she would be possibly going up against a Gray Warlord Prince. If that were true, and the man truly wore the Gray and not some elaborate illusion, Shyloh would have a truly difficult evening.
The sun had set in the Narrows. The first bar she'd checked didn't contain the man called Draven Rook, though she'd paid a silver mark to find out he'd been seen down the street. Following the directions, more akin to 'find the one with the green sign, that bar', Shyloh took a steadying breath and entered the cheap and dirty bar, the type of bar that Hush and Draven had once loved.
Her gaze skipped along the patrons, to make sure he was there. It hard to
miss
the man. If he hadn't been the one she'd been searching for, Shyloh thought her gaze would have stopped upon him anyway.
Hell's Fire. He looks exactly like Draven.
A part of her, extraordinarily lonely since Hush's death, wanted to rush to him, to tell him the horrible news. To share her pain and perhaps allow that pain to diminish some. It was a foolish want, but thinking the man dead for months, she understood much better now how Roland felt when he'd seen her return from the dead.
The surprise of him, even though she knew to expect Draven to be within the bar, only made her hesitate. Instead, she let her dark and potent scent speak for her as she turned to the bar instead. Confident in her illusion, Shyloh strode up to the bar, feeling the eyes of a fair number of the men and women within the establishment turn to her.
She was new, fresh meat. And as the rest of those Blood in the bar caught her scent, they would know she was not
an easy mark
. As she ordered a stiff drink, 'whiskey, neat', Shyloh did not look at Draven, she would give the Warlord Prince a moment to notice her. Though she wore the face of Amelie Mullins, her scent was entirely
Shyloh Knight
. If the impostor were for any reason truly Draven Rook, perhaps his mind controlled by some powerful spell, she knew he'd remember. He had to remember.
A mark exchanged for the wooden cup, Shyloh took a deep drink of the whiskey, the burn hard and a testament to how cheap the drink had been. It tasted like the memories of her sister, but she ignored them. Instead, she turned her body to those around her. Still, she didn't look at him again, but she would in a moment. First, she'd give the impostor a chance, give him an opportunity to act first.
For her teachers had always told her long ago: the spider weaves the tangled web, slow and steady, with each action a deliberate act. Her dance with this man, she would lead him along her web like a spider until she was ready to strike.